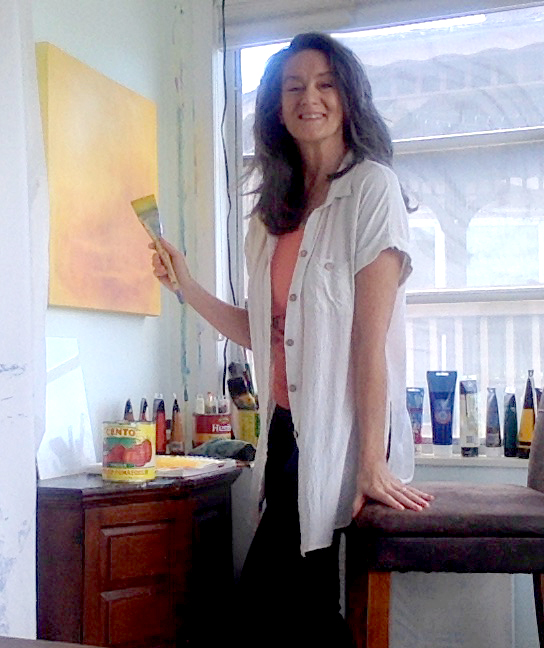 Dianne Steele is a prophetic & contemporary painter, singer/songwriter/worship leader, worship dancer and part-time-day-job graphic designer.
I will forever be beyond grateful for who God is, all the He has done for me and continues to do everyday.
As a child, I began drawing and painting not so much for passion of the art form, but to give unique gifts to friends and family. The passion came later. And really I love all the arts and have loved each season in life with different emphasis.
For me, painting is an intimate, playful and powerful journey of expression in union with the Holy Spirit. I often have no idea what He is expressing until a work is done and even then there is more – which I may learn through scripture, or life experience or often by the response of someone else.
THE PROCESS
Often, I stand in front of a blank canvas and just begin with no plan. I might begin to "feel" a certain to color and so I just start there. Then another color.  Then something begins to emerge and  if it is strong I will begin to define that image – it may become the painting or it may be just a starting point, but even that will have meaning.  Even works that are not prophetic still have this process. One day years ago the Holy Spirit told me to get black paint and to close my eyes. Then He said to write these words, "Let me move you." So I did. When I opened my eyes… well it was barely readable of course, but He said now begin painting… so I did. And, (don't have a pho it evolved into a picture of 2 worship dancers. And that was the doorway into painting in the prophetic realm. I did several works like that and then I had my first "vision" painting PRAYERS OF THE SAINTS  which really launched me into creating this website, going public with my art and reproducing prints for customers.
Enjoy!